FIND A JOB
How To Write a Finance Resume + Samples and Full Guide
Every good resume accomplishes the same goal: demonstrating to the hiring manager that you can solve their problems and assist their company in achieving its objectives.
In the financial industry, this entails quantifying your achievements to demonstrate that you can make and/or save money for your company.
In many respects, your resume represents your capital when looking for a job in finance. When seeking employment in finance, banking, or insurance, you'll be asked to offer metrics—dollars and cents, percentage growth, and so on—that show you're someone who can contribute to the company's performance.
When you've set your sights on landing a new job, combed through the various accounting and finance roles, and discovered a position that might be a perfect fit for you, and it's no secret that this crucial page, or two pages, can make or break your chances of being called for a job interview.
Check Out: High Paying Jobs For Graduates With Finance Degree
How To Write a Finance Resume
Here are six finance resume writing suggestions to assist you to persuade your potential employer that you're the best candidate for the job:
1. Do not use the summary format;
Many people hire resume writers and receive a summary resume,' which is the incorrect format for job seekers in finance and accounting.
Start with your most recent and relevant position and work your way backward. Just don't go too far back.
Limit your resume to the last 10 years unless you have a compelling reason to include work experience from the 1990s. Anything older than that can be discussed in the interview.
Check Also: Is Finance A Good Career Path in 2022?
2. Use the same keywords as the employer.
Many companies use a computer program to weed out candidates that aren't a good fit based on keywords in their resumes.
Because of this filter, your resume may never reach a hiring manager. Look for keywords and action verbs like "diagnose," "financial compliance," and "sales forecasting" in the job description.
In your resume, use these keywords whenever possible. The more closely your keywords match, the more likely you are to rise to the top of the stack.
Read Also: How to Choose a Financial Advisor in 2022
3. Maintain a professional tone
There will be no clip art or pictures, and anything unusual will be saved for the cover letter.
That is not the place for it on a resume, at least not for an accounting position.
4. Highlight your most significant accomplishments
In addition to describing your job responsibilities, make sure to highlight your achievements and promotions.
Consider writing mini case studies with specific results. Take the description a step further by including a statistic that demonstrates how you assisted your company in increasing efficiency or lowering costs.
Including results will show your potential employer that you're a problem solver who understands the value of your position in the company.
 5. Grammatical mistakes
Your job search will be hampered by typos, misspelled words, and careless spelling on your resume.
Don't rely on spell and grammar checkers to catch extra or missing words, subject-verb disagreement, inconsistent tenses, incorrect punctuation, or words like "where" when you meant "were" in your cv; Extra or missing words, subject-verb disagreement, irregular tenses, incorrect punctuation, or words like "where" when you meant "were" may go unnoticed.
To ensure that you detect all of the errors on your cv, print it out and reread it. Then have it proofread by a linguistic friend or family member.
6. Don't forget to mention your less-obvious soft skills
Employers are increasingly scrutinizing resumes for evidence of soft skills. Including your public speaking skills, for example, shows a prospective employer that you can present your ideas and reports to clients.
Another important soft skill is business acumen. Also, it's not uncommon for "social media savvy" to appear on an accountant job description these days, so if you see that, make sure to include your experience with Facebook, LinkedIn, Twitter, and any other relevant tools.
You'll find yourself revisiting and revising your resume as your career progresses. Make sure to go over it again for each new job you apply for, and stay current on industry requirements for financial and accounting personnel.
Samples of a Finance Resume
Here are some examples of finance resumes;
Sample 1 
Sample 2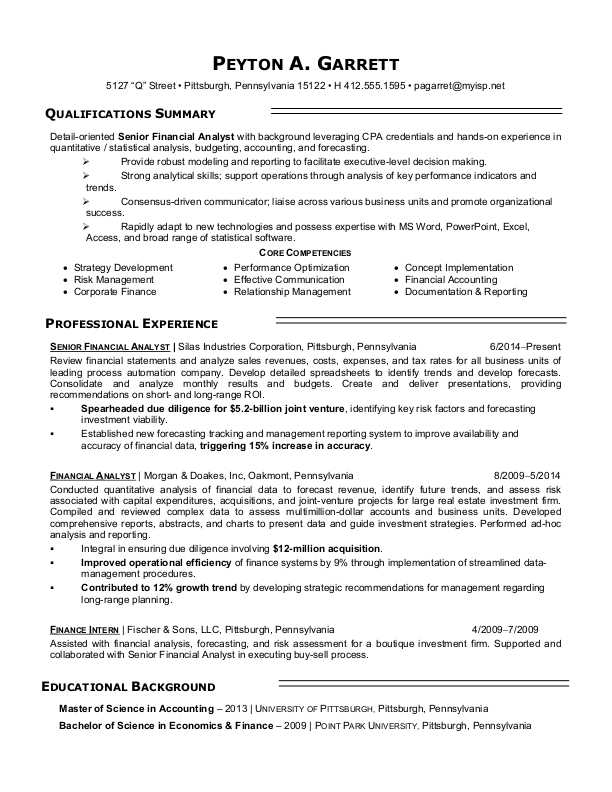 Sample 3
Here is how to write a finance resume that will land you a job
The main sections of the resume include:
Format (Contact Information)
Summary 
Work Experience
Education
Skills
Additional sections, or optional sections, includes;
Language skill, Hobbies or interest, and Certification
1. Select the Most Appropriate Format:
Individual and corporate clients' financial needs are serviced and counseled by finance professionals who work for banks or other financial institutions.
The purpose of your finance resume is to show that you have the abilities and experience needed to assist a company in meeting its financial targets.
Finance is a broad term that encompasses a wide range of specializations. Finance employees hold positions ranging from analysts to specialists to managers and directors, each requiring a unique set of skills and knowledge.
To pique a potential employer's interest in your resume, follow these formatting guidelines:
Make sure your resume's contact information is current. Check your social media profiles for anything that could be construed as unprofessional or unethical.
It's critical to optimize your LinkedIn profile. Take advantage of the opportunity to provide more details about your professional experience and financial interests.
For finance resumes, the chronological format is preferred because it highlights your relevant work experience and financial knowledge, which is exactly what you want to emphasize.
Choose a professional and easy-to-read resume font; employers rarely read the fine print, so use a decent font size and leave some white space for increased clarity.
Save your resume in PDF format if you want it to look like one of your professionally formatted worksheets.
There are many misconceptions about the length of a resume. A one-page resume template should suffice as a general rule of thumb.
2. Make a Summary or a Goal:
Introduce yourself with a resume profile, a career objective, or a summary. It's a brief paragraph at the start of your finance resume.
Write a career summary if you have more than 2 years of work experience:
Make a list of the most important aspects of your experience and financial abilities. Keep in mind your professional accomplishments—they can impress recruiters.
Select four excellent points to include in the summary section of your finance resume.
Choose a career objective if you're writing an entry-level resume or a resume for a finance intern:
Highlight your current skills and knowledge, as well as some points about how well you'd fit into the company.
Consider relevant transferable skills and factual achievements from previous jobs and school experiences, especially if they can demonstrate certain abilities or know-how.
All you need is about 3-4 sentences long at most, and don't forget to adjust it to the job description.
3. Create a Section for Work Experience:
If you want to get that surreal interview, make sure your resume experience section is compelling:
Start from where you are now and work your way backward in time.
Make each entry as clear and concise as possible by including job titles, company names, dates of employment, and a maximum of six bullet points highlighting your achievements.
With your previous jobs, reduce the number of bullet points. Past positions should have no more than three bullet points.
Each bullet point should begin with an action verb, and some examples of action verbs are; Plan, Assess, Develop, Investigate, Identify, Track, Improve, Examine, Review, Execute, Document, Collect, Coordinate, Audit, and so on.
It's not a good idea to make a laundry list of responsibilities. Instead, impress with quantifiable accomplishments. 
Use the numbers to your advantage.
To increase your chances of getting that interview, tweak your finance experience section to the position you want.
4. Make the education section of your finance resume stand out.
Because education is so important in finance, you can't just skip this section, below are guides to getting your education section to pique the interest of a prospective employer:
If you have more than a few years of experience, don't go into too much detail. Simply include the following information: the name and location of your college or university, the years you attended, your degree, majors, and minors.
If you only have a year or two of experience, or if you're writing a resume for a recent college graduate, include accomplishments from your college days in your education resume section (such as a GPA or Latin honors). Make sure they're important and keep the list to a maximum of 4-6 items.
If you're writing a finance internship resume for the first time, prioritize your education over your work experience. This will allow you to focus on your strengths, which is the best way to begin a resume with no experience.
5. Highlight Your Skillsets
Skills are the foundation of any profession, and this is especially true in finance, where analytical and interpersonal skills are equally important. Here's how to list your financial skills in such a way that employers see a competitive edge:
Consider your job skills, which include soft and hard skills, technical skills, and any other relevant skills you have in your portfolio. Make a list of them.
Using the job ad as a cheat sheet, select the most relevant financial skills. In your financial resume, make sure to include those top skills. Always make a point of mentioning skills that your experience and education sections demonstrate.
Finance Professionals' Must-Have Skills
Skills in communication
Accounts payable and receivable
Due diligence is required.
Managing cash
Credit and debt management
Skills in problem-solving
Skills in time management
Bargaining
Ability to communicate
Computer abilities
Financial evaluation
Collaborative abilities
Assessment of risks
Reconciliation of accounts
Microsoft Office proficiency
Creative abilities
Additional sections;
Add language skills that will help you in your job. Emerging markets will be the future of finance, so knowing their languages will give you a competitive edge.
Include volunteer work, honors and awards, projects, and even hobbies and interests if they're related to finance or demonstrate a particular skill or knowledge. To be excellent and versatile at their job, finance workers need a diverse set of skills, so include examples that demonstrate this.
Remember to keep track of your certifications. If you want to be a finance director, financial analyst, finance manager, finance specialist, or any other type of finance specialist, you'll need these skills.
DOs and DON'Ts
DOs
Include an extensive professional summary in your document
A hiring manager can use your professional summary to determine whether the rest of your resume is worth looking at.
If you have any banking or financial institution experience, mention it, or emphasize your business or finance degrees.
Employers value soft skills like attention to detail, so include them in your resume.
Concentrate your resume on positions that are relevant to you
Rather than listing every position, you've held since your first job, only include those that are closely applicable to finance.
Working as a bank teller for a year is more relevant than working as a craftsman for two years.
Include previous roles that helped you learn transferable skills relevant to finance, such as customer service.
Remember to include finance-related keywords in your search
Many hiring managers rely on applicant tracking systems (ATS) to help them pick out unqualified candidates from the pool.
Finance-related terms on resumes are more likely to be accepted. 
DON'Ts
Don't use a resume that is more than a few years old
The financial sector is always changing, with new software and rules and regulations necessitating constant workflow improvements.
If your resume is out of date, it may imply that you are unable to keep up with such alteration. Each year, update your resume and tailor it to each position.
Don't use too much industry jargon on your resume
Even if you're applying for a job in the financial sector, avoid using financial terms in your resume.
Use important keywords, but keep in mind that the prospective employer reading your resume may not understand industry jargon.
References should not be included
According to most job-search specialists, including references on your resume is no longer a good idea.
At a later stage in the recruiting process, references will be requested. Instead, fill in the blanks on your resume with more information about your financial experience.
FAQs
Is it possible for my resume to be two pages long?
A curriculum vitae should be no more than two pages in length. Just make sure your resume isn't excessively long because it contains meaningless work experience or skills that aren't relevant to the job you're applying for. For very qualified applicants, two-page resumes are common.
How can I make my finance resume stand out?
A simple but standard layout.
There should be no statements that are objective.
A language that is confident but not overly so.
Focus on your education.
Qualifications obtained through formal education.
What are some examples of financial skills?
Analytical Reasoning
Accounting knowledge.
Business analytics.
Modeling financial data.
Financial Accounting and Reporting.
Management of Cash Flow.
What qualities do employers value in finance graduates?
Concentrate on the skills you acquired, the systems and software you were exposed to, and anything else you did in that role that makes you a better candidate for a job than the average recent graduate. Soft business skills, while not related directly to the job description's specific tasks, are valuable and can help you stand out.
Which font is ideal for a cv?
Arial.
Cambria.
Calibri.
Garamond.
Georgia.
Helvetica.
Times New Roman.
Veranda.
Conclusion
Introspection and a quest for detail are the best ways to write attractive professional finance resumes that captivate your recruiter.
It's important to realize that there are a variety of approaches to writing a good resume. Your goal, on the other hand, is to write a fantastic resume that impresses the recruiter and outsmarts the competition.
Following your understanding of the various formats and styles of professional resumes from sample finance resumes, you must adhere to one consistent format throughout your curriculum vitae.
References